Everyone Else But Me: Life, Love, Loss & Laughter through Infertility
For 10 years, infertility was an interloper in my marriage, eroding my self-esteem, bank balance and happiness. I joined online support groups and forums, read a library's worth of books, blogs and articles. Nevertheless, few places offered sanctuary from the perpetual feed of pregnancy, and proud new parents. Accosted by our child-centric society, I felt like I was the only one scrabbling to keep all my marbles in place.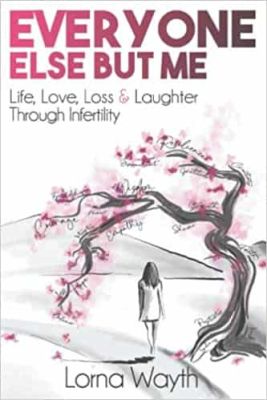 Once I'd climbed out of that dark and difficult place, I vowed to write about my experiences to help others. I wanted to tell the story, share the poems, provide the research and facts, advice and care that I would have appreciated reading when at the peak of my own psychological tussle.
I admit that the writing process was not easy as I delved into parts of my life that were painful and personal, but my story needed to be told, and the story of others like me.
Getting the tone right took time and patience, but I got there in the end and finally 'birthed' a book that made me proud. I felt certain that readers struggling themselves would be emotionally drawn to, connect with, and uplifted by many elements of this story and poems.
In 2019, I published and launched, 'Everyone Else But Me: Life, Love, Loss & Laughter through Infertility.'
Buy on Amazon Spain Buy on Amazon UK
Humour, realism, absurdism, joy, pain, love and advice are all here in one place, as are many themes, not just infertility - relationships, self-reflection, identity and belonging.
This book has now become an excellent resource for the increasing number of people wanting to understand how to support others, as well as for men and women wishing to rise up from these challenges and the adversity of grief to feel more empowered and less alone.
Please do read on to find out more.
How does infertility and loss impact daily life? How are sufferers viewed by those who've little experience of this issue? Are they robustly supported by family, friends, and employers? Are patients adequately supported by an industry that promises so much? And how can laughter, love, self-care, and balance be consistent companions during such emotional wrangling?
Long-term infertility causes a mindboggling array of hidden issues, from workplace discrimination to financial instability, from marital difficulties to serious mental health concerns. Yet, in an age of deconstructing social taboos with access to almost limitless information, there remains a significant lack of understanding of these harmful repercussions.
Offering powerful insight into the struggles of sufferers, and raising awareness to spark enlightening conversations leading to greater support is at the heart of this book.
Ultimately a story of love, resilience and survival through infertility, the stories and experiences of other remarkable women are also woven into this sometimes harrowing, yet uplifting scrutiny. Each chapter's core message explores a different theme, ending with a carefully crafted poem audibly brought to life via a QR code.
Whilst, at first glance, there's little to laugh about in this whirl of heartache and loss, a sprinkle of dark humour can help us through even the most testing times. This is what is hoped the poems inspire; comfort, reassurance, the release of a bottled-up tear, and laughter.
Everyone else but me: Life, Love, Loss & Laughter through Infertility shines light into infertility's murky, misunderstood corners in a way that supports the self-care and well-being of infertility sufferers, educates the uninformed, and entertains those who need a pick me up.
And for those who keep going, year after year, for those who need encouragement to go forth with wisdom, strength and renewed optimism, this book is for you.
"It's important to tell it as it was and now is. Now, I give myself permission to acknowledge and respect how I felt. That is the way it was. And now I am a new version of me. Like a phoenix from the flames. Stronger, wiser, a little haggard perhaps, and sometimes still sad, but no longer so sad, ashamed or anxious." ~ Lorna Wayth, Author
"A tale of knock-backs, resilience and oh so many laughs. Even in the darkest moments of her fertility journey, Lorna emerges in glorious technicolour with a message of hope for others. And her poetry is golden!" ~ Emma Burgess, Editor
"I bought this book to understand how to support two good friends facing their own infertility battles and am so glad that I did. The author writes with beautiful (and often brutal) honesty, combined with genuine wit. The poems at the end of each chapter provide a particularly thoughtful punctuation throughout the book. I'd highly recommend this book to anyone facing infertility or, anyone trying to understand how to support those facing it." ~ Amazon Customer Review
"This book had me hooked from the outset - I didn't want to put it down! The author has been brutally open and honest about life with infertility. The wonderful poetry at the end of every chapter really brings the book to life, and the ingenious addition of a QR code means that you can listen rather than just read the words. It is an accessible, informative, humorous and moving account of the rollercoaster journey of trying to conceive. It's a must-read for everyone really, not just those going through a similar struggle - we will all have people in our life (whether we know it or not) who may be having difficulty conceiving, or going through IVF, or are dealing with baby loss, and after reading this book you will think twice about your words and actions." ~ Amazon Customer Review